Slice of Heaven Bakery
---
Contact us to order products, to learn to bake, or to participate in our programs.
Click here to receive our regular bakery email notices.
Slice of Heaven Breads
Rabbi Jonathan founded Slice of Heaven Breads, located at Temple Sinai, 509 Broadway, in downtown Saratoga Springs, New York. It is a non-profit, charitable, all-volunteer operation–whose helpers and volunteers include students, grandparents, pre-schoolers, and differently-abled individuals. A new kitchen was built with the help of a generous grant from the Alfred Z. Solomon Charitable Trust.
For challah recipe, click here.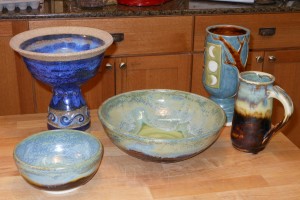 Some of the pottery
in the bakery comes from the terrific Shanna Wheelock, 
the Easternmost Potter in the United States.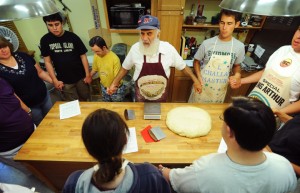 Fridays at Temple Sinai:
Challah (white or whole wheat) and granola
Specialty breads, bagels, cookies, desserts
Special Events:
A selection of breads and baked goods for your party, non-profit fund-raiser, or life-cycle event.
Slice of Heaven Breads is dedicated to:
Producing delicious breads for the daily table and for special occasions
Teaching the craft of bread making in our "open kitchen" to all who are interested
Giving the bikkurim—the first fruits of our labors–to causes such as hunger relief
Donating and delivering baked goods to homebound individuals and facility residents
Obtaining ingredients, supplies, and equipment from local producers, distributors, and craftspeople
Using mostly organic and natural products in our baking
Networking with institutions and individuals to promote healthy, responsible, and sustainable consumption and the healing of the earth
Providing training and employment
Sharing spiritual wisdom from a variety of sources on food and eating practices
Contact us
to order products, to learn to bake, or to participate in our programs.
Slice of Heaven Breads
Temple Sinai, 509 Broadway, Saratoga Springs, NY 12866