About Us
---
Rabbi Linda Motzkin, soferet, parchment maker, and scribal artist, and Rabbi Jonathan Rubenstein, bread maker and baking teacher, served for 36 and a half years as co-rabbis of Temple Sinai, a Reform congregation in Saratoga Springs, New York. They retired on January 1, 2023, and are now Co-Rabbis Emeriti of Temple Sinai.
They were ordained in June, 1986, at the Hebrew Union College-Jewish Institute of Religion in Cincinnati, and were the first rabbinic couple to share the sole rabbinic position in a synagogue. In addition to their duties at Temple Sinai, Rabbi Motzkin served for 29 years as the Jewish Chaplain, and subsequently as the High Holy Day Chaplain, at Skidmore College, and Rabbi Rubenstein was, for over thirty years, Pastoral Care Director at Four Winds–Saratoga, a private psychiatric hospital.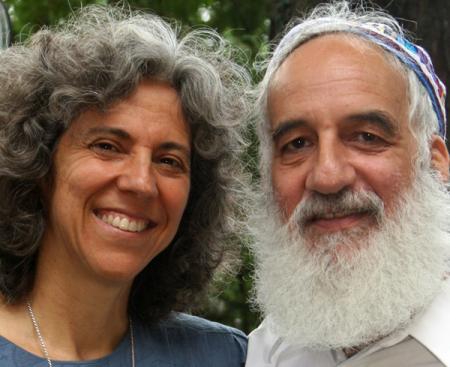 In 2004 Rabbis Linda and Jonathan founded the Bread and Torah Project, through which they offer interactive educational programs based on their scribal arts and bakery activities. Rabbi Linda is trained as a soferet—a scribe. For Purim 5767 (2007), she completed the writing of megilat esther—a scroll of Esther—for Temple Sinai. She is currently writing a Torah scroll and leading the Community Torah Project, a long-term undertaking designed to involve a wide range of participants in various steps in the hands-on process of making a Torah scroll, from the processing of deerskins into parchment panels to the proofreading of the completed text.
Rabbi Linda is also the author of the Reform movement's four-volume adult Hebrew language series: Aleph Isn't Tough, Aleph Isn't Enough, Bet is for B'reishit and Tav is for Torah. In addition, she is co-author of The First Hebrew Primer: The Adult Beginner's Path to Biblical Hebrew and Prayerbook Hebrew the Easy Way, from EKS Publishing.
Since 2004 Rabbi Jonathan has been teaching bread making and operating a non-profit, charitable bakery, Slice of Heaven Breads, out of the Temple Sinai kitchen. A volunteer program, Slice of Heaven Breads produces and sells a variety of breads and baked goods, with proceeds supporting hunger relief programs, Temple Sinai's programs, and other charitable causes. The bakery offers ongoing bread baking lessons, provides training and employment to individuals with disabilities, and donates and distributes challah weekly to nursing home residents, hospital patients, and the needy. Slice of Heaven Breads also donates products for local non-profit fund-raising efforts.
Rabbis Linda and Jonathan are frequent presenters at conferences and retreats throughout the northeast. Their work spans church and synagogue education programs (youth and adult), school groups, scout troops, civic organizations, agencies serving individuals with disabilities, and facilities for seniors.
The rabbis are the proud parents of Shira Bracha, a 2013 graduate of Brandeis University with an MS from the University of Oregon who is a poet, teacher, and translator (www.otherwordlyllc.com); Ari Shalom, a 2011 graduate of Brown University, who is the Managing Campaigns Director at Corporate Accountability; and Rabbi Ruhi Sophia, a 2007 Smith College graduate and a 2015 graduate of the Reconstructionist Rabbinical College, now serving Temple Beth Israel in Eugene, OR. She is married to Rabbi Jacob Siegel, Director of Climate Engagement at Hazon.