Our Programs
---
We offer our hands-on, interactive Bread and Torah programs in a variety of formats for all ages from pre-school to senior citizens. We can tailor a program to meet the needs and budget of your community, school, or organization.

Videos
Rabbi Linda Motzkin, soferet
The Community Torah Project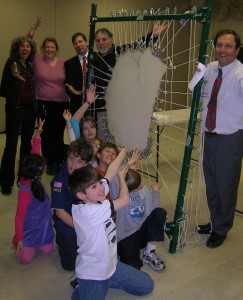 The Writing and Making of a Torah Scroll
Visual Presentations (PowerPoints)
The Making of a Torah Scroll
Art and Spirituality: the perspective of a soferet/Judaic artist
Women and the Making of Torah
Hamotzi Torah from the Earth – the interplay of animal, mineral, vegetable
Hands-On programs:
See Touch Feel – Materials and Tools of Torah Making
Hide-stretch – Help make a Panel of Parchment
Teamwork – Proofreading completed Torah panels
Sacred Sewing – stitching Torah panels together
Art Workshops
Hebrew Calligraphy: Beginner Through Advanced
Making a simple Hebrew Amulet
Making a "Shivi'ti" or a "Mizrach"
Hebrew Calligraphy as a Meditative Process
Art Midrash
Gallery/Artist's Talk
A selection of Rabbi Linda's unique Hebrew calligraphic artwork on hand-made deerskin parchment can be brought to your community, with an accompanying artist's talk about the pieces displayed.
Other Programs
Mystical Attributes of the Aleph-Bet
Scribal Quirks in the Weekly Torah Portion
Rabbi Jonathan Rubenstein, baker
Founder of Slice of Heaven Breads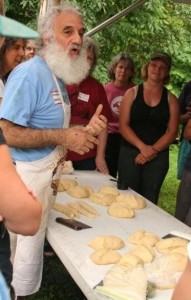 Baking Workshops
These workshops include teachings based on the mitzvah of hafrashat challah and may include text study and discussion on Jewish values regarding food justice, bal taschit, nutrition, eating behaviors, ecology and the environment.
Challah – traditional, whole wheat, and vegan
Bagels, Bialys, and Rye Breads
Holiday and Celebration Breads
Sweet doughs: babka, schnecken (sticky buns), and more
"Seven Species" bread workshop and teachings for Sukkot, Tu B'Shevat, and Shavuot
Make your favorite breads at home
Other Workshops
The Earth and the Mitzvah of Challah
"Spiritual Fitness:" nutrition, eating behavior, addiction, and Jewish food teachings and practices
Vegetarianism and Judaism
Judaism and ecological stewardship
Visual Presentation: Slice of Heaven Breads – A Synagogue-Based Community Bakery
Group baking and cooking for special events
Program formats:
Residency for weekend or longer
Shabbaton – Friday afternoon through Havdalah
Saturday Havdalah through Sunday
Single day (3-6 hours)
Single evening (2 -3 hours)